SpotAuditor
4.3.6.0
Information: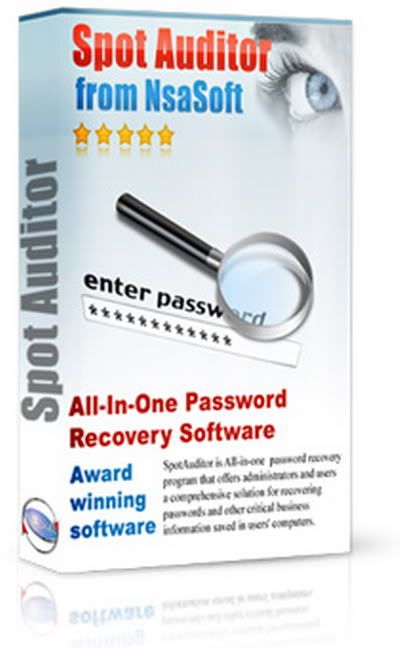 Nsasoft SpotAuditor 4.3.6.0 | 2.6 MB
SpotAuditor - program designed to display and cleaning the secret data stored in Internet Explorer.
SpotAuditor
allows to remove not the desired inputs to the system memory protection. The program also explores Outlook accounts, Visited URLs, Installed Programs and auto-start programs on your machine or on different computers via remote.
SpotAuditor
displays the details of all cookies that Internet Explorer stores on your computer and reads all information from the history file on your PC, displays a list of URL, which you've visited, and also allows you to clear the history of Internet Explorer, delete the cookies and temporary Internet files.
You can recover and resave any lost or forgotten passwords that you have ever entered in Internet Explorer. Many applications under Windows allow you to conveniently store frequently used passwords. Printed password is not displayed on the screen, and instead of the real password, you see only the number of "stars" (*****)
SpotAuditor is a Windows utility that offers comprehensive solution for recovering passwords and other critical business information saved in computers.
SpotAuditor
recovers Internet Explorer, Firefox, Opera, Outlook Express, MSN messenger, Windows Live Messenger, Windows Messenger, RDP, ICQ, VNC, Dial up, RAS, VPN, Trillian, Miranda IM, & RQ, Camfrog Video Chat, Easy Web Cam, WinProxy, Total Commander (Windows Commander), Far ftp client, WS_FTP, CuteFTP, File Zilla, FlashFXP ftp client, SecureFX ftp client, WebDrive ftp, FTP Voyager, CoreFTP, CoffeeCup Direct FTP, AutoFTP, FTP Control, FTP Navigator, 32bit FTP passwords and reveals IE Auto Complete Fields saved passwords, recovers passwords stored behind the asterisks (*****). The program also explores Visited URLs, Installed Programs and Start Run Programs on a local machine or remote computers.
SpotAuditor Key Features:
IE7 (Internet Explorer 7) web and autocomplete password recovery
IE6 (Internet Explorer 6) and ActiveX password uncover and remover
Mozilla Firefox cached passwords recovery
Opera browser password recovery
MSN messenger 6.0 - 7.5 and Windows Live Messenger 8 password recovery
Windows messenger password retrieve
Dialup, RAS and VPN password recovery (administrator privileges required)
Outlook Express and Microsoft Office Outlook passwords recovery
Recovers Passwords behind Asterisks (*****)
RDP - Remote Desktop password decoder
ICQ password finder
Trillian password recovery
Miranda IM password recovery
Google Talk (GTalk) password recovery
Google Desktop password recovery
Camfrog Video Chat and Easy Web Cam password recovery
VNC 4.xxx password recovery
WinProxy Administrator password retriever
Total Commander (Windows Commander) password recovery
CoffeeCup Direct FTP password recovery
WS_FTP password recovery
SmartFTP 3.x password recovery
CuteFTP password reveal
FlashFXP ftp password unhider
FileZilla multiple FTP accounts and proxy server passwort recovery from registry and FileZilla.xml
FTP Navigator password discovery
32bit FTP password recovery
WebDrive FTP password revealer
FTP Control password seeker
AutoFTP password recovery
FTP Voyager password recovery
SecureFX ftp client password recovery
Far ftp client password viewer
Ftp Now password finder
Core FTP passwords retriever
FFFTP passwords recovery
& RQ icq client password searcher and decrypter
Internet Explorer Cache Manager
Internet Explorer Content Advisor password changer and remover
Internet Explorer Cookies, History and Internet Files Cleaner
كود:
http://lumfile.com/ydmqa12f72at/Nsasoft.SpotAuditor.4.3.6.0.rar.html