Muncher
v4.93.33502
Beta
(New
Key)
Information: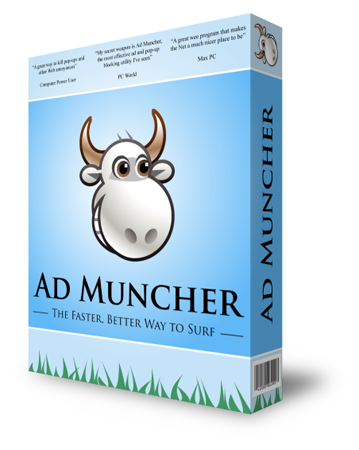 Ad Muncher v4.93.33502 Beta (New Key) | 1.1 MB
Ad
Muncher
- a utility to remove the pop-up windows and banner ads - can thus increase the speed of loading pages and save a lot of traffic. The main feature - a small size. Works from the system tray, integrates with virtually all browsers, but also removes ads from ICQ, Morpheus, Kazaa, Opera, iMesh and many other programs.
Despite the modest size, the program is perfectly removes ads from the visited pages, identifying them by: address, size, signature (tag alt). In addition to banners Ad
Muncher
successfully fights: music on the pages, backgrounds, pop-up windows (popups); automatically updated pages, scripts, change the state status bar'a scripts that block the right mouse button.
Ad
Muncher
works in a proxy-server mode, on the one hand controls all traffic, and only after the processing passes to the browser or any application that attempts to show advertising (for example, the same ICQ). Thus, the latter does not require any additional funds in the form of special patches. And set up manually does not have enough standard equipment.
Common features of the program is as follows:
* Blocking of any kind of advertising in all browsers (Opera, Firefox, Internet Explorer), including pop-ups
* Ad blocking in products such as ICQ, Morpheus, Kazaa, Grokster, PalTalk, iMesh, Bearshare, LimeWire
* Faster loading pages due to the lack of superfluous elements, including Advertising
* Lock 'stalking behavior ?web-sites (hidden elements, scripts, and other malicious code)
* Powerful filter system, which is growing due to the constant support from the users of the program
* Work on all versions of the Windows operating system
In the load to the automatic mode, you can define custom filters, custom configure replacement text, use an anonymous browsing feature by using intermediate proxy-servers of the frequently updated online-list, to carry out an approximate calculation of saved traffic and much more.
Database updated with filters developers constantly update for registered users almost every day, and the program will download them automatically. In addition, funds are available for integration into all popular browsers, with which you can go to add new custom criteria for blocking.
كود:
http://lumfile.com/y61y3od6x86i/AdMuncher-33502.zip.html