Image
Extraction
Wizard
6.01
Pro
Information: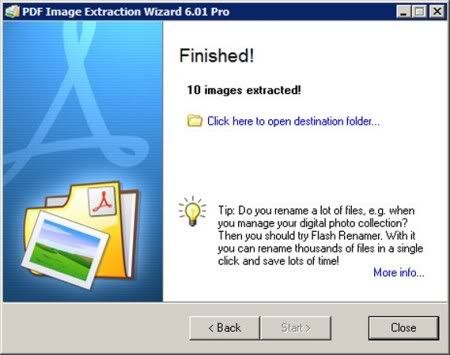 PDF Image Extraction Wizard 6.01 Pro | 1.9 MB
A small program to extract images from PDF files. The
Extraction
process consists of pictures of a few simple steps, during which select the PDF file, specify the path to save images, a mask file name,
Image
format (BMP or JPEG), and if the file is encrypted, type the password. In addition, the utility provides the ability to select pages from a PDF document with which you want to save the new version of the program kartinki.V distinguish between raster and vector graphics.
With PDF Wiz you can extract bitmap images from inside PDF (Adobe Acrobat) documents and save them as individual
Image
files. You can choose to extract all pictures in a single click, or limit to specific pdf pages and / or
Image
sizes.
Images are extracted straight from the PDF document without recompression. This means that extracted images will have the maxumum possible quality, only limited by the document's original quality settings.
Features:
-Saves images from inside pdf documents.
-No re-compression for best possible quality.
-Easy to use
Wizard
style program.
-Batch mode: extract from multiple PDF's in one go.
-Does not require Adobe Acrobat.
-Can be limited to specific pages.
-Extract everything, or only large or small images.
-Saves images as Jpeg, Tiff, Png, Bmp and Tga.
-Extracts from password protected docs.
-Rotates, flips & merges grabbed images if needed.
-Automatically skips duplicates.
-Can skip photos or line drawings if wanted.
-Can merge images that were sliced ??by the PDF saver.
-Add page number to extracted filenames.
-Render pages to picture sequance, complete with text, bitmaps and vector images. New!
كود:
http://lumfile.com/xaiqj59j1x8o/PDF.Image.Extraction.Wizard.6.01.Pro.rar.html